All Our Shed Plans Feature:
FREE – How To Build A Shed eBook included with every shed plans purchase. Does not describe how to build a parapet wall. The diagrams for this are on the plans.
Cost Effective – Our shed plans are designed to make your shed simple and inexpensive to build.
Easy To Build From – Professionally drawn with step by step instructions to show both an old pro or a first time framer how to build a shed. (see the plans example below).
Start Now – Instant download – The shed plans are emailed to you when you purchase so you can start immediately. We use the free PDF file format so you can print them on a large document printer or we can postal mail them to you.
Materials List – Easily get bids and use the list numbering system to know what part goes where.
Low Slope Roof With No Overhang Details– The shed uses a 1 in 12 pitch roof. The roof has no overhangs on the sides and rear edges.
Foundation – Concrete slab.
Siding -Siding is shown as metal siding but other sidings can be substituted. The covered area uses 1×6 Tongue and Groove cedar.
FREE Materials List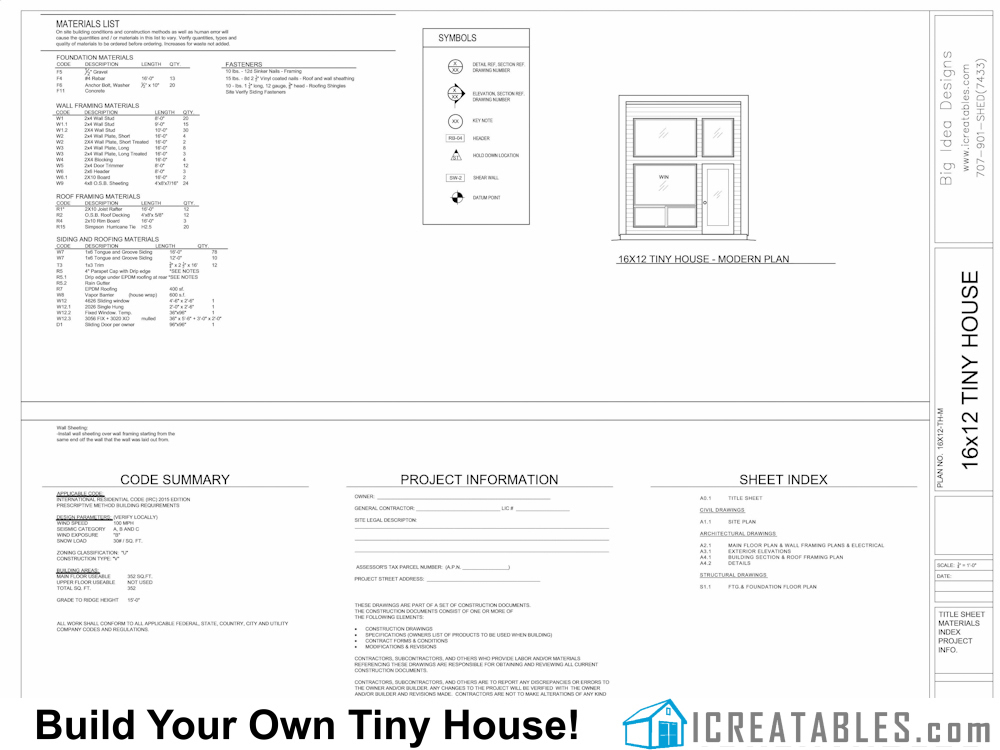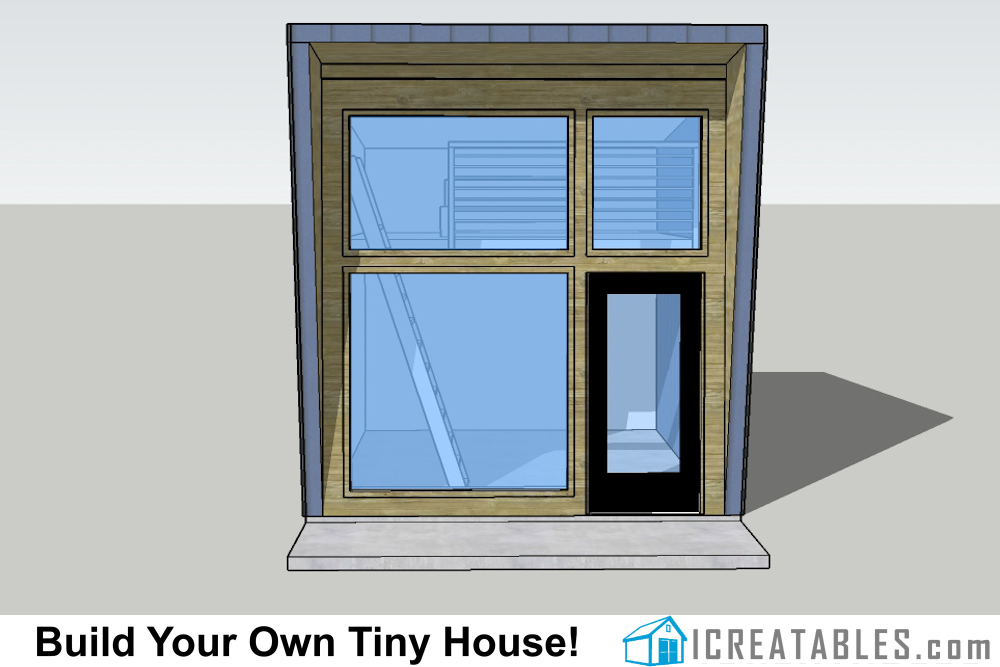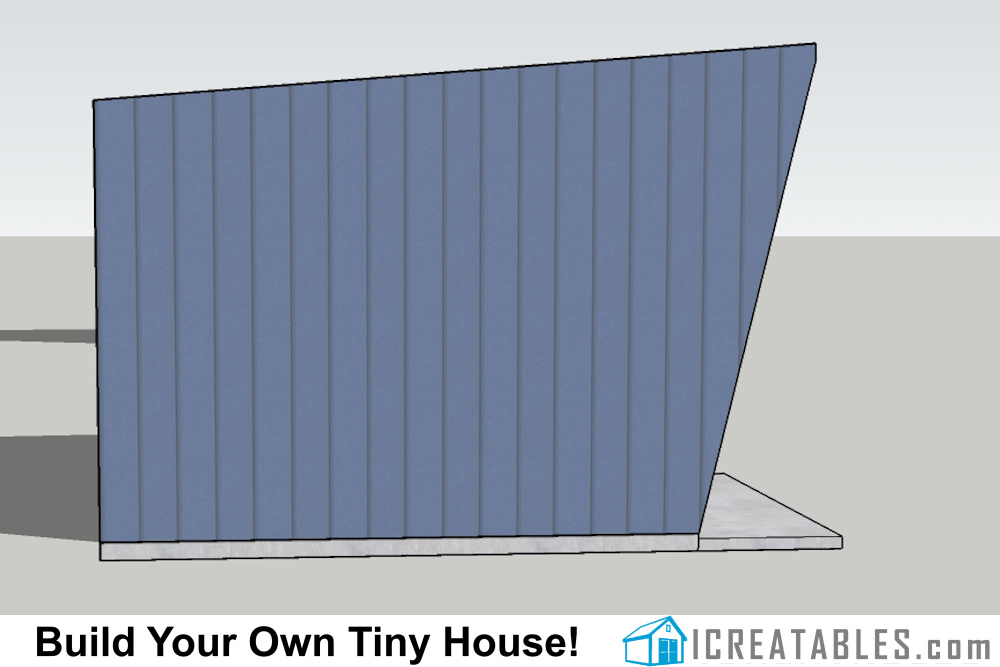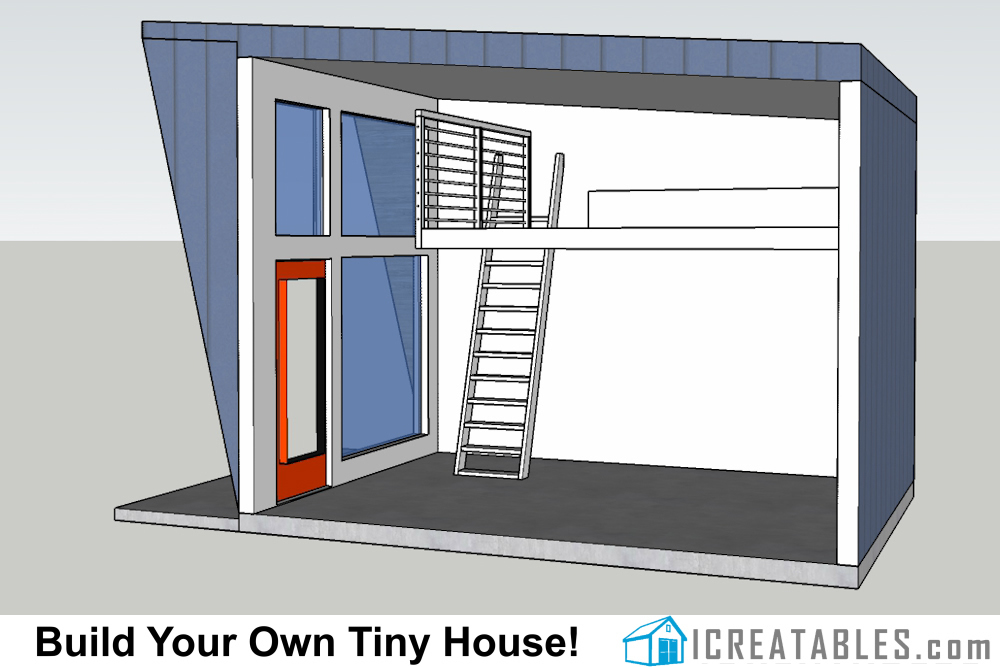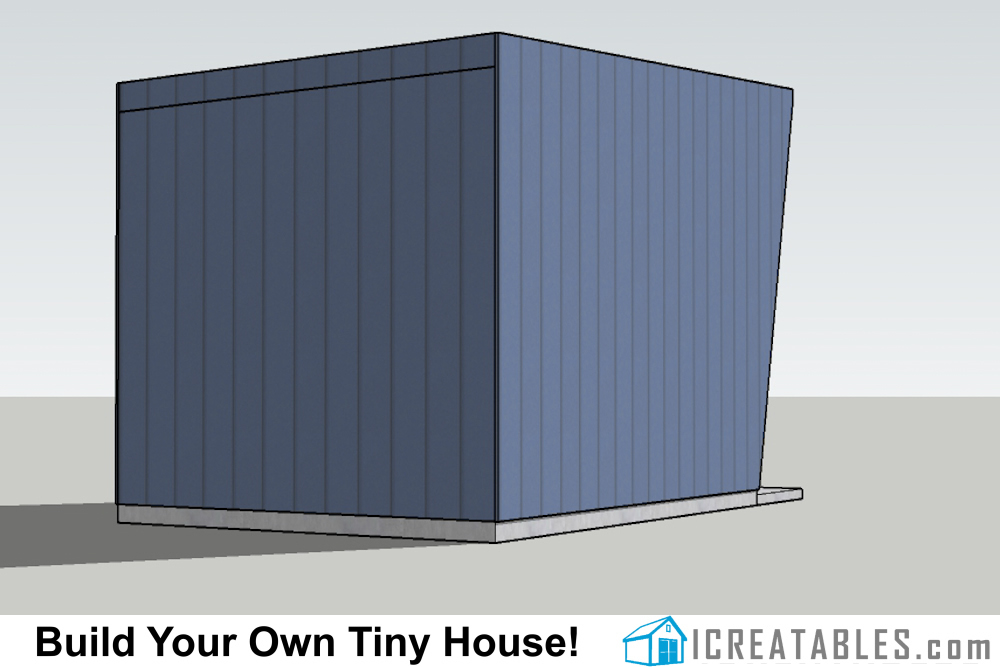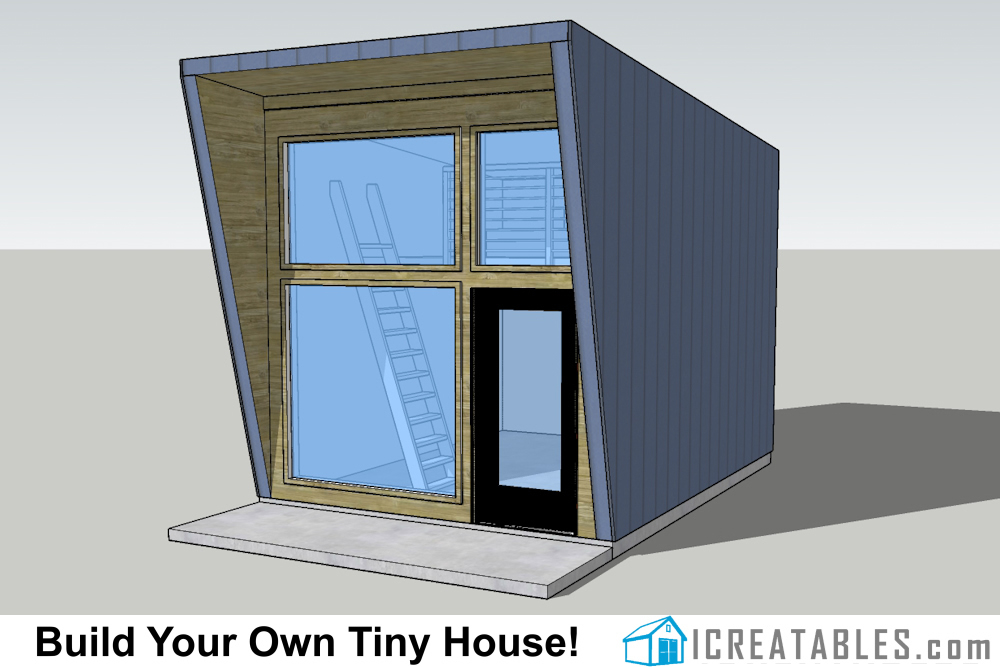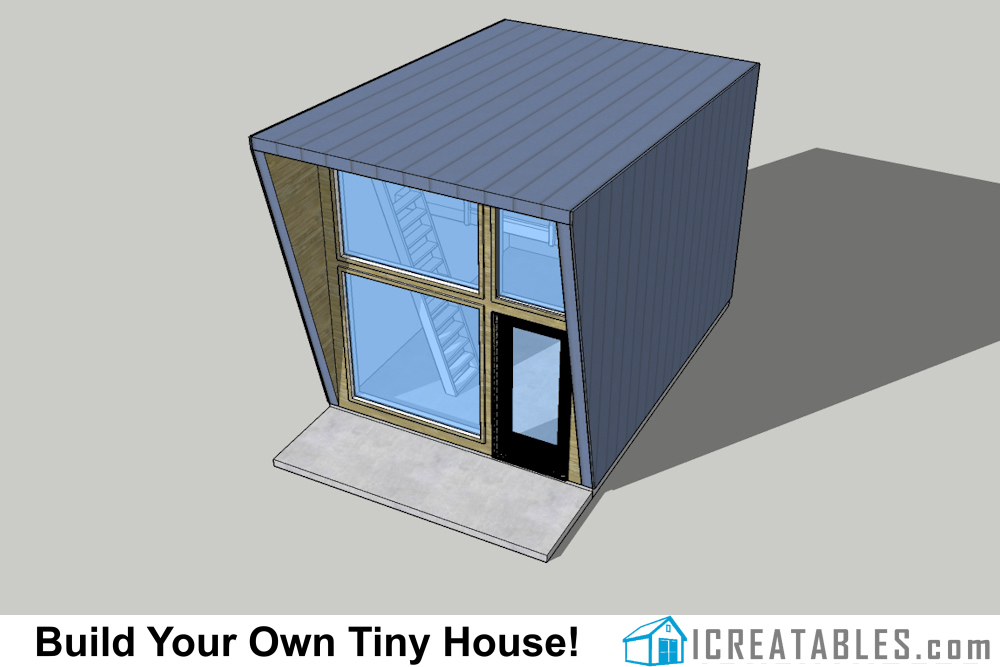 12×16 Office Shed Plans Floor Plan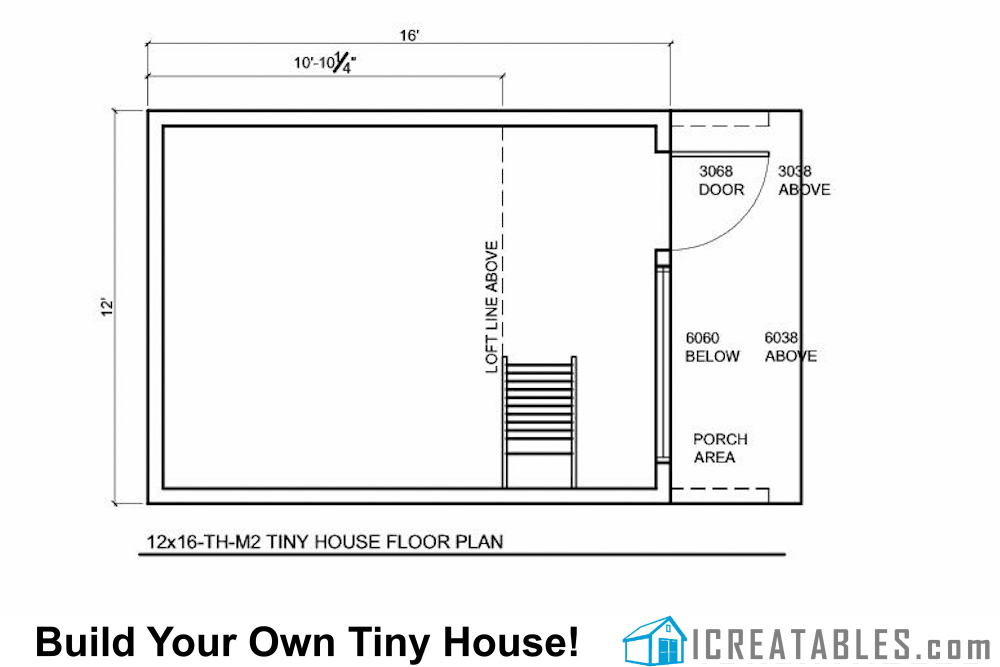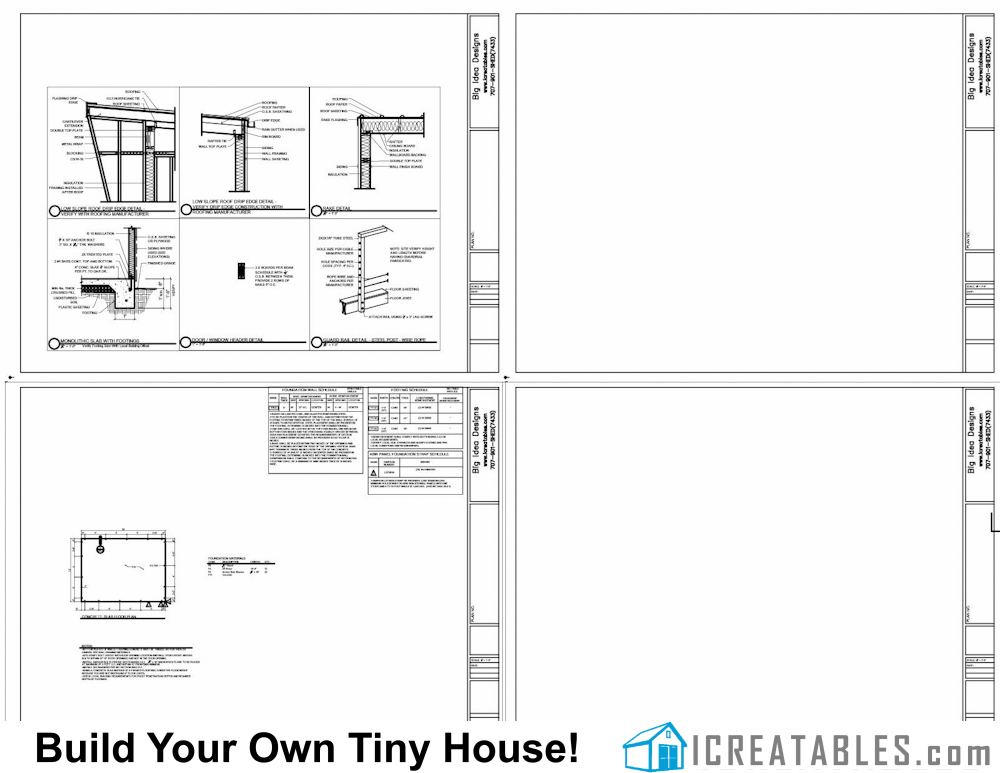 16X12 Modern tINY hOUSEPlans Specifications Overview
Foundation: Concrete Foundation plans are included. They specify a 18″x12″ monolithic footer.
Floor: Concrete floor slab.
Walls: 2×6 framing at 16″ on center, 7/16″ O.S.B. sheeting that allows the metal siding and other sidings to be applied. The lower shed wall height is 7′-7″
Door: The specified door is a 3068 full glass residential home pre-hung door.
Windows: The upper windows are 6′-0″ x 3′-8″ and 3′-0″ x 3′-8″ fixed. The lower windows are 6040 fixed mulled to a 6020 slider.
Roof: This is a low slope roof design that The roof is framed using 2×10's at 24″ on center. It is sheeted with 7/16″ O.S.B.
Roof Pitch: 1/12, this means that for every 12 inches of run horizontally there is 1 inche of rise.
Roofing: PBR Low Slope Metal Roofing and flashings per the manufacturer
Siding: Metal siding and flashing to match roofing is specified on the plans. Onsite metal wrap of the vertical porch is needed and typically made by the siding/roofing installer. The exterior wall framing consists of 2×6 wall studs, O.S.B. sheeting, Building wrap, Metal siding to match the roofing. Other sidings may be used.
Sample of our 16×12 tiny home plans: